For partners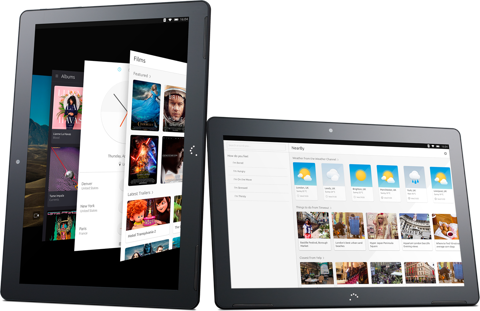 Ubuntu provides the ideal platform to deliver class-leading devices, quickly, easily and cost-effectively
Canonical has years of experience partnering with the world's leading PC makers and silicon vendors
We bring full support for hardware enablement and product readiness, including integrating custom services, content and apps — but without fragmenting the ecosystem
Now it's easy to build a tablet that's also a PC
Ubuntu is the only operating system that is fully adapted for mobile-based full touch and PC-based point-and-click interfaces. This means you can use it to create tablets that support both. This is Ubuntu convergence: two experiences on one device — which means new possibilities for hardware makers.
Ubuntu Tablet hardware requirements
| | Entry level Ubuntu consumer tablet | High-end Ubuntu enterprise tablet |
| --- | --- | --- |
| Processor architecture | Dual-core Cortex A15 | Quad-core A15 or Intel x86 |
| Memory | 2GB preferred | 4GB preferred |
| Flash storage | 8GB minimum | 8GB minimum |
| Screen size | 7-10 inch | 10-12 inch |
| Multi-touch | 4 fingers | 4-10 fingers |
| Full desktop convergence | | |
There's the hard way.
Or there's Ubuntu
Ubuntu embraces both ARM and Intel architectures for tablet hardware. Canonical has deep expertise in product creation and engineering support — and we collaborate closely with all our hardware partners.
This support is located where the industry needs it. We have experienced teams based in Taipei, Shanghai, London, Beijing, Shenzhen and Boston who can engage with your respective engineering and factory operations.
We use a standard Linux kernel and the drivers from existing Board Support Packages (BSPs), minimising the need for investment in hardware enablement. If you already make devices that run Android, the work to adopt Ubuntu will be minimal.
Get ahead with Ubuntu and Canonical
Canonical provides hardware enablement services to the world's biggest PC OEMs and, as a result, Ubuntu pre-loaded computers now ship to every major market worldwide. With a global team of specialists covering enablement and optimisation, we have the resources you need to deliver amazing Ubuntu tablets.
Leading device manufacturers partner with Ubuntu
Partner with us
Ubuntu is reinventing how users engage with content and services on tablets and phones. We invite OEMs and carriers to get involved in bringing this new mobile user experience to consumers.