Server plans and pricing
Get peace of mind with cost-effective systems management and professional support from Canonical, the Ubuntu experts.
Three ways to support and manage Ubuntu
Ubuntu Advantage
Ubuntu Advantage is the professional package of tools, technology and expertise from Canonical, helping organisations around the world get the most out of their Ubuntu deployments. It includes access to:
Extended Security Maintenance: critical security updates after Ubuntu end-of-life
Landscape: the systems management tool for using Ubuntu at scale
Livepatch: automatic kernel security hotfixes without rebooting
Knowledge Base: a private archive of expert-written articles and tutorials
Support: phone and web-based support at multiple service levels
Visit the Ubuntu Advantage store
Ubuntu Advantage for servers
Ubuntu
Ubuntu Advantage for servers
Without support
Server Essential
Server Standard
Server Advanced
Price per node (physical)
$0
$225/year
$750/year
$1,500/year
Price per node (virtual)
$0
$75/year
$250/year
$500/year
Phone and ticket support
None
None
8am - 6pm on weekdays
24 hours a day, everyday
Download, install, run, use, update, secure, upgrade
Landscape Management
Kernel Livepatch
Extended Security Maintenance
Knowledge Base
Ubuntu Legal Assurance programme
Unlimited Ubuntu LXD guest support
Unlimited Ubuntu KVM guest support
FIPS-certified cryptographic modules
Feature Sponsorships
*
Enterprises can support the quicker development of certain features, packages, or changes to Ubuntu for everyone's benefit.
Custom Hardware Certification
*
Get Canonical to certify specific hardware you are running that isn't officially supported on Ubuntu.
Custom OS Images
*
Have Canonical create and maintain images that have the customisations your company requires.
Additional Ceph support
If you need more than the included 3TB.
Technical Account Manager
Get a dedicated support person for your account.
Dedicated engineers
Canonical can write code to support your organisation; for example, get Canonical to write custom drivers for your hardware.
* Requires a site-wide UA subscription
Ubuntu Advantage: what's included?
Systems management: Landscape
Take control of your infrastructure with our Landscape systems management tool. Reduce your team's efforts on day-to-day management with the most cost-effective tool to support and monitor large and growing networks of desktops, servers and clouds.
Maintain security and compliance
Control your inventory
Integrate with your current systems
Deploy or rollback security updates
Role-based access
Monitor and manage machines at scale
Automate updates
Manage physical and virtual systems from a single interface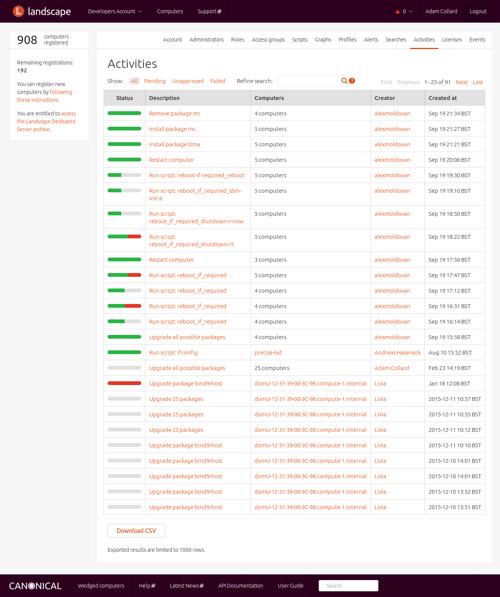 24x7 phone and email support
Canonical's Global Support & Services team provides around-the-clock coverage for Ubuntu deployments all over the world. Telephone support gives you access to engineers with first-hand experience of your issues, while the online portal lets you track the progress of cases in real time.
Technical library
Exclusive to Ubuntu Advantage subscribers, the Canonical Knowledge Base is an online library of articles on technical issues including security, migration and networking.
Customer login
Already a customer? Access the support portal or Landscape's SaaS.
Enterprise support for MAAS
MAAS is freely available, open source software from Canonical. Many enterprises depend on MAAS to automate and optimize provisioning for production hardware. Canonical offers Standard and Advanced support plans priced per-machine-per-month or, for large volume and public clouds with dynamic scale, we offer per-region pricing with flexible node ranges.
Ubuntu
Ubuntu Advantage for MAAS
Without support
Standard
Advanced
Price per machine
$0
$5 per month
$10 per month
Per region per year
-
-
Unlimited machines $75,000
Phone and ticket support
None
8am - 6pm on weekdays
24 hours a day, everyday
Ubuntu and CentOS deployment
Landscape Management
(for the MAAS servers)
Livepatch
(for the MAAS servers)
Knowledge Base
Windows, RHEL, SUSE, and custom image
creation and deployment
High availability (HA) support
Install MAAS ›
Contact us ›
Contact us ›
Got a question?
Exchange expertise and ideas with thousands of other IT professionals.
Want to talk to other Ubuntu users today? Share ideas and get advice from our active community of IT professionals. As a community we set high standards for friendliness and tolerance, and we welcome your questions and contributions!