Server management
Get peace of mind with Ubuntu Advantage: Cost-effective systems management and professional support from Canonical, the Ubuntu experts.
Ubuntu Advantage is the commercial support package from Canonical, offering efficient systems administration software, fast problem resolution and access to experts when you need them.
Landscape is the systems management tool available with Ubuntu Advantage. It allows you to manage thousands of Ubuntu machines as easily as one, making the administration of Ubuntu desktops, servers and cloud instances more cost-effective.
Buy Ubuntu Advantage for servers
Ubuntu Advantage for servers
Choose the right level of cover to meet your needs.
| Features | Essential | Standard | Advanced |
| --- | --- | --- | --- |
| | Ideal for Ubuntu scale out workloads and microservice architectures in the enterprise | Perfect for Ubuntu in production data centres hosting virtualisation and container | Tailored for mission critical Ubuntu clouds and clusters, where uptime and availability are imperative |
| 24x7 self-service customer care portal and knowledge base | | | |
| 8x5 ticket support for the default packages in the Ubuntu Server image | | | |
| Landscape Management | | | |
| Ubuntu Legal Assurance programme | | | |
| 10x5 phone and ticket support for all packages in Ubuntu main | | | |
| Unlimited Ubuntu LXD guest support | | | |
| 24x7 phone and ticket support for all packages in Ubuntu main and Canonical-maintained packages in backports and universe | | | |
| Unlimited Ubuntu KVM guest support | | | |
| Ceph support | | Optional | Optional |
| Technical Account Manager | Optional | Optional | Optional |
| Ubuntu Advantage price per server per year | $150 | $750 | $1,500 |
| Ubuntu Advantage for virtual guests | | $2,500 | $3,150 |
Buy Ubuntu Advantage for servers
Ubuntu Advantage for virtual guests
Ubuntu Advantage for virtual guests has the same features as Ubuntu Advantage for server however:
It must be bought in 10-pack units
It is only available for guests in Ubuntu certified public clouds and OpenStack environments
It is only available at Standard and Advanced levels
Ubuntu Advantage: what's included?
Systems management: Landscape
With the Landscape systems management tool, you can automate updates and manage physical, virtual and cloud-based systems from a single interface. It's easy to set up, easy to use and requires no special hardware. It features:
Management at scale
Deploy or rollback security updates
Compliance reports
Role-based access
Informative monitoring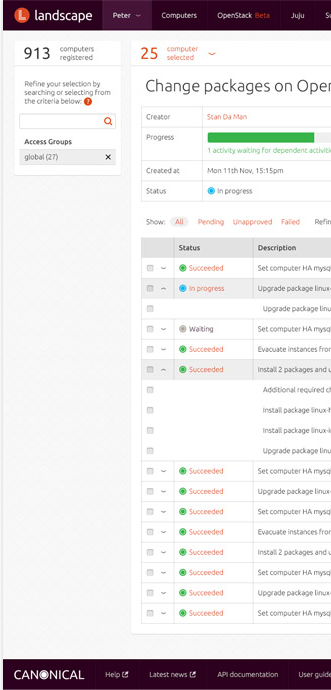 24x7 phone and email support
Canonical's Global Support & Services team provides around-the-clock coverage for Ubuntu deployments all over the world. Telephone support gives you access to engineers with first-hand experience of your issues, while the online portal lets you track the progress of cases in real time.
Technical library
Exclusive to Ubuntu Advantage subscribers, the Canonical Knowledge Base is an online library of articles on technical issues including security, migration and networking.
Customer login
Already a customer? Access the support portal or Landscape's SaaS.
Got a question?
Exchange expertise and ideas with thousands of other IT professionals.
Want to talk to other Ubuntu users today? Share ideas and get advice from our active community of IT professionals. As a community we set high standards for friendliness and tolerance, and we welcome your questions and contributions!