Landscape features
Landscape allows you to manage thousands of Ubuntu machines as easily as one, making it far more cost-effective to support large and growing networks of desktops, servers and cloud instances.
Making software management simple
Manage machines in bulk
Tag machines to associate them with different profiles
Transparent cross-platform support for x86 and ARM binaries
Specify update policies and maintenance windows, during which software updates can be performed
Ensure managed devices are up-to-date with the latest security fixes
Hold a specific software package at a designated release, to prevent accidental breakage. Holds can be set using Landscape or the shell tools; both are recognised operationally
Support a validation/integration workflow to ensure that updates don't break mission-critical applications
Make sure that only applications and updates vetted by your local IS team are installed
Install, remove and update packages to managed devices
Rollback software to a previously installed version, if a problem is discovered
Provide custom repositories to internally provision applications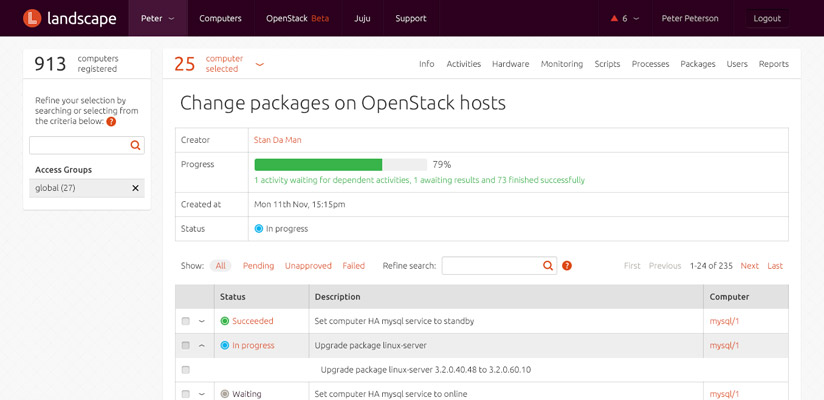 Watch the software management video on the working with Landscape page ›
Deployment – on the metal or in the cloud
Provision a new starter's desktop from standard templates
Deploy a new server remotely, from bare metal
Rapidly deploy new cloud nodes into your private cloud infrastructure
Coordinate deployment at multiple sites, without affecting the WAN's performance
Roll out an entire private cloud directly at server unboxing
Limit the number of cloud instances your administrators can purchase
Watch the bare metal provisioning video on the Working with Landscape page ›
Monitoring
Helping you identify and troubleshoot user issues
Historical data archive of a system's critical variables
Ready access to a list of all processes running on a system (rogue processes can be killed remotely)
A graphical module that makes it easy to plot trends of temperature, disk and memory usage, system load or custom metrics
Scriptable, custom trend information based on the parameters that matter to you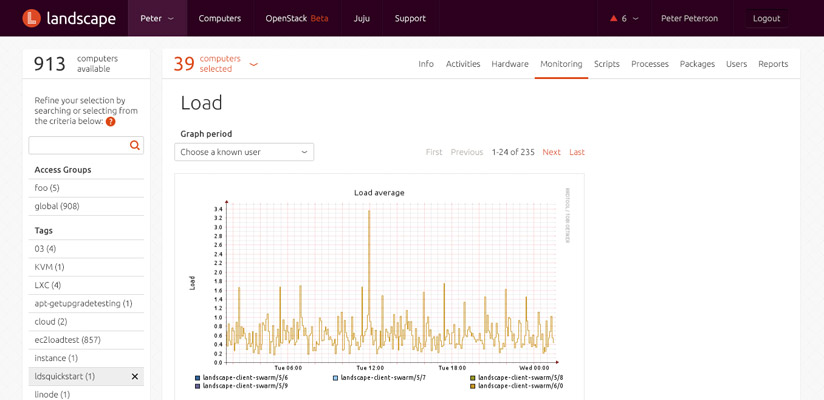 Watch the asset management video on the working with Landscape page ›
Inventory management
Access full package information for all registered machines, including security notices applicable to the selected device.
Enjoy rapid access to a system's hardware properties to track hardware-specific issues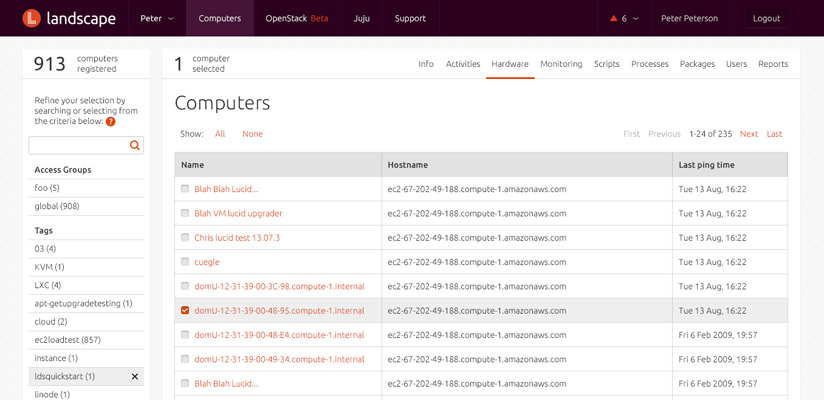 OpenStack
Build and manage your cloud in minutes
Get an OpenStack up and running in a matter of minutes
Keeps an inventory of your resources to recommend the best configuration options
A growing list of options for hypervisor, networking, storage, and other components
See the status of all cloud resources at once, with alerts for any disruptions
Scale out with ease, as your cloud workloads grow
Uses all of Canonical's proven cloud building and management tools
Manage your cloud from the same system as all other Ubuntu machines
Free for up to 10 machines
Try OpenStack Autopilot now, free for the first ten machines ›