Ubuntu Cloud Jumpstart
A private cloud in 5 days. With an on-site Canonical engineer to get it done.
Jumpstart is a fast, low-risk route to deploy private cloud infrastructure on your premises. Compatible with the Rackspace, HP and Amazon public clouds, it costs just $9,000 and it's guaranteed to take just five days.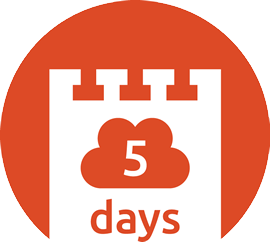 How it works
Ubuntu Cloud Jumpstart builds your private cloud on your own hardware over the course of five days of on-site professional service, delivered by a Canonical services engineer and managed by a Canonical engagement manager. The engagement includes:
A planning framework in which to make essential, core architecture decisions
A seed Ubuntu Cloud deployment, on up to 20 of your servers
Training on tools and processes to support your cloud
What the engineer will do
Work with your ops team to design and deploy Ubuntu Cloud Infrastructure on your hardware
Share knowledge on the use of Ubuntu Cloud Guest (the version of Ubuntu specifically designed for public or private clouds)
Deliver the required core build for Ubuntu Server
Plan and implement user and group requirements
Develop and integrate baseline security policies
Assess your physical storage and integrate it with your cloud infrastructure
Help with the deployment of Ubuntu Cloud Infrastructure compute and/or storage services
Configure automated deployment tools
Help you develop a strategy for managing cloud capacity
Use Landscape, the Ubuntu systems management tool, to configure update and patch management
Provide training on Landscape
Introduce your team to Juju and use it in your cloud environment

Openstack loves Ubuntu
The reference architecture for OpenStack is based on Ubuntu. Jumpstart gives you a private cloud compatible with precisely that reference architecture, on the hardware of your choice. The resulting cloud will be adapted to your preference for storage, network and compute — and will remain compatible with our reference cloud for all workloads.
Jumpstart is... well,
just the start
The scope of our standard Jumpstart engagement is limited to cloud deployment and training. Additional support, assurance, consulting, integration and professional services are available on a bespoke basis, however, both from Canonical and third party providers.
Canonical offer long-term assurance and support for this infrastructure. A complimentary 30-day subscription to Ubuntu Advantage is included with Jumpstart to provide support after deployment. Ubuntu Advantage can be extended to cover any pieces of your Ubuntu deployment.
Canonical can help your
cloud grow
Ubuntu is the OS of choice for new clouds, both as host and guest. Canonical, the company behind Ubuntu, has unparalleled experience deploying cloud infrastructure solutions; we can help you take the core design decisions needed to ensure your cloud will grow smoothly in years to come.
Planning for the hybrid cloud
Ubuntu is the most widely used OS in the cloud, offering native support for all major private and public cloud platforms. It is the most heavily used OS on both Amazon AWS and Rackspace, and hosts new public clouds from multiple industry players. Building your private cloud with Ubuntu Cloud Infrastructure gives you the unmatched ability to burst workloads from your private cloud to the major public clouds.